After many many many many PM/Email/SMS/calls etc etc all asking similar questions about building and plumbing rack systems for shrimp, so when a friend asked me a few weeks back i decided to draw up a blue print Guideline to save me trying to explain everything over and over.
So With these simple drawings you can understand the most basic way of plumbing up a system.
The way i have drawn it is what works best for me and it is the way i have plumbed up all 64
tanks in my various systems now. You can modify any of the fittings and pipe to suit the size of your system but the lay out is tried and proven and works perfect.
So i will start with the Over Flow (water going from tanks to sump). In the picture below you will see on the notes that i use 40mm pipe everywhere except the upstands (pipe going to bulkheads) this is to allow for the larger volume of water that passes though this pipe as its draining from every tank.
The pipe that runs up the outside beside the tank with an end cap needs to have a hole drilled in the top (5mm). This pipe's purpose is as a noise reduction, if you dont have this you will get more noise in the pipes from the water.
The next is the return. (water going from the sump into the tanks)
For the return plumbing the pipe size is all the same, as a rule i always use the same size return pipe as the upstands used on overflow pipes.
the only important thing to remember about this part of the plumbing is to make sure your corners use 2x 45 elbows to make the corner turn. If you use a 90 elbow it restricts the flow a little and makes the pump work harder than it needs to.
You will notice there are 2 ball valves, one on each row of outlets before the pipe going into the individual tanks. This is to control the flow of water to each rack so it flows evenly as the first row of tanks will get more pressure from the pump than the top row, so you can reduce the pressure at the bottom to get the same pressure at the top :)
Its always good to put a UV inline also as a bit of back up against any bacterial problems or algae blooms :)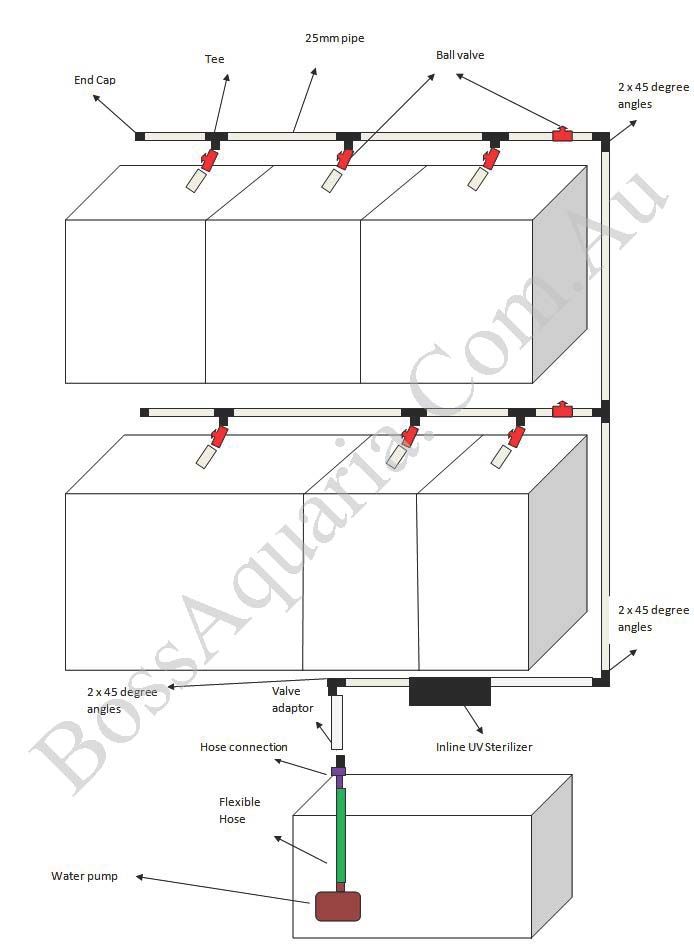 Feel free to ask the questions on this thread so everyone can benefit from the sharing of info ;)